I've been asked a lot in the past few years "where is your favorite place to photograph weddings?" – as in, what type of venues are my favorite. This question always catches me a little off-guard, because to me, it's so not about the location of a wedding, but rather the people who are getting married and the overall vibe they're planning for their wedding day that gets me most excited. It could be a backyard/barn wedding venue or a ballroom wedding venue or a wedding in an old industrial space and I would love the day just the same. What does matter to me is how I connect with the couples I work with, the trust they place in me as a photographer, and the energy that fills their wedding plans and celebrations. I appreciate and love working with those who are genuine, welcoming, and thoughtful. But above all, I appreciate (and admire) those who are not afraid to be themselves, who roll with the punches as they come, and who aren't going to hold back from laughing wildly or shedding a tear if that's how a moment moves them. To me, a wedding day spent photographing a couple with any of these qualities is going to be so much more important than any physical address of a wedding celebration.
Jessica and Cuyler are the perfect example of what I mean. They are not afraid to be themselves, have the most genuine personalities, and are the type of individuals that just being around will make you smile and laugh and feel like you're in the best of company. Their July 4, 2015 "bohemian barn BBQ" wedding was inspired by Jessica's love of bright colors, batik patterns, and the Grass Roots Music Festival. They included many personal touches in their wedding details, and I'm pretty sure every single person – regardless of age – was out on the dance floor with them! It was a true celebration in every sense of the word, and I am so thankful they invited me to tell their story.
PS. If you haven't already seen/heard, their story was also featured in the most recent (January) Issue of Buffalo Bride's Magazine! I love seeing my wedding couple's photos in print!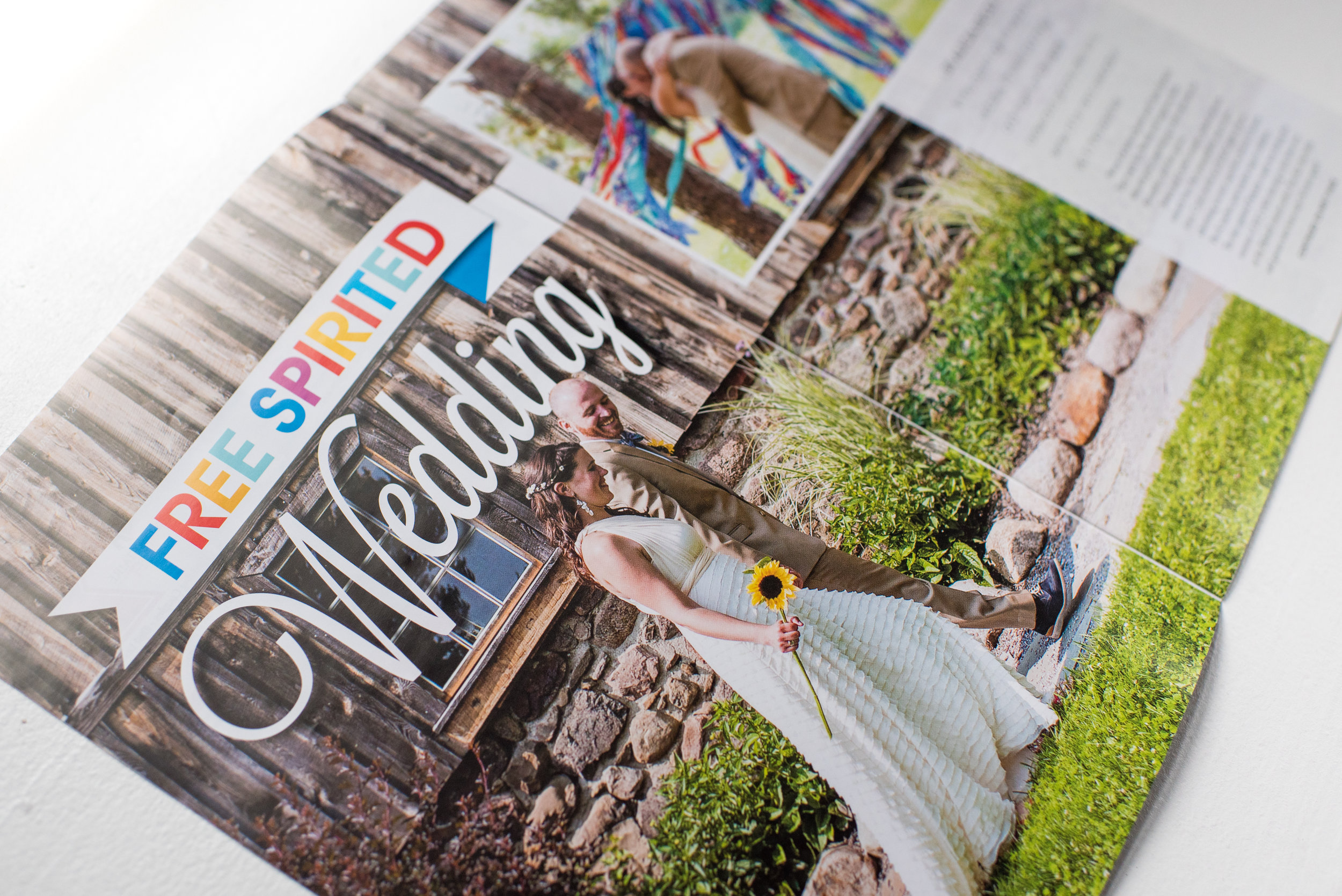 Special thanks to all those who played a part of their special day:
Ceremony & Reception: Hayloft in the Grove
Caterer: Buffalo Catering Company (BBQ: pulled pork, chicken grilled on site, mac n cheese, baked beans, salad, and Costanzo rolls, of course!)
Florist: Summer Time Blooms (wild flowers of all different types and color)
Photographer: Dawn M Gibson Photography
Music: Bride & Groom's own playlist
Bride's Dress: Coralie Beatrix on Etsy
Groom's Suit: Riverside Men's Shop
Dessert: Cake, cookies and pies made by family and friends, and then we had Sour Patch Kids and Peanut Butter M&M's (his and her favorite candies)
Signature drink pre-made by the groom: Minted Vodka Lemonade
Local brew on tap: Southern Tier IPA, Flying Bison Rusty Chain
DIY (made by the bride): The fabric streamer backdrop for the ceremony made by the bride (I also wrote out all the chalkboard signs myself, stuck labels on mason jars, a family member decorated the card picnic basket for us, I used my own bandanas for the flower arrangements to go on in the middle of the tables, we collected all the jars for the flowers, and we used our own old blankets to put over the haystacks at the ceremony)